Observatory (SOHO) spacecraft. Initially around 4th magnitude when it first appeared, the comet brightened steadily and was close to 2nd magnitude, and exhibiting an ion tail as well as a distinct (albeit foreshortened) dust tail, by the time it exited the LASCO field early on the 28th. Although the comet was then located on the far side of the sun as seen from Earth, the stage was now set for its impending appearance in the northern hemisphere's skies.

The first ground-based observations were reported as early as July 1, at which time Comet NEOWISE was very deep in twilight. I saw it on the morning of July 3 – the day of perihelion passage – and despite being at an elongation of only 13.5 degrees it was readily visible in 10x50 binoculars as an object of 1st magnitude, already with a distinct tail. Over the course of the following week the comet continued climbing higher into the morning sky, and although it did start to fade slightly, its higher location above the horizon made it an easy naked-eye object. On the morning of July 11 I could easily see it as a 2nd magnitude object with a prominent dust tail several degrees long.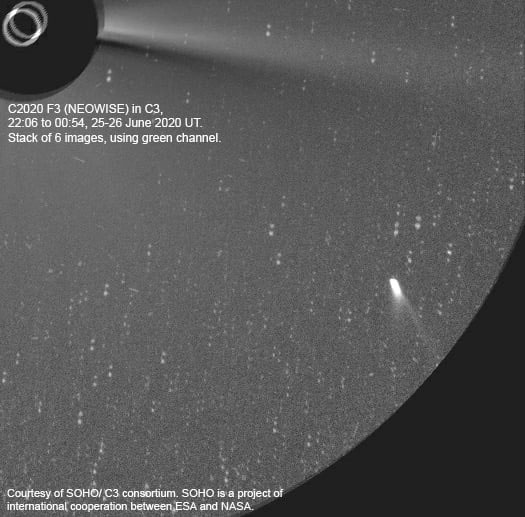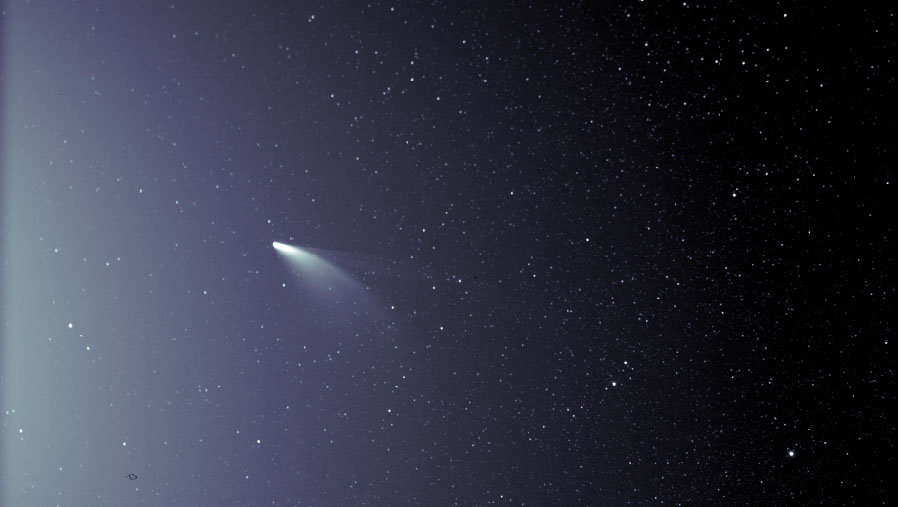 Comet NEOWISE as imaged by different spacecraft. Left: A composite image, prepared by Michael Jaeger in Austria, of six images from the LASCO C3 coronagraph aboard SOHO taken on June 25 and 26, 2020. Courtesy NASA/ESA. Right: Image taken on July 5, 2020, by the Wide-field Imager for Solar PRobe (WISPR) instrument aboard NASA's Parker Solar Probe. Courtesy NASA/Johns Hopkins APL/Naval Research Lab/Parker Solar Probe/Brendan Gallagher.
After passing through conjunction with the sun (24 degrees north of it) in mid-July Comet NEOWISE moved over into the northern hemisphere's evening sky, and continued to climb higher into a darker sky. While it continued to fade slowly, its better visibility allowed it to remain a prominent object for observation, and when it was closest to Earth (0.69 AU) on July 23 – the 25th anniversary of my discovery of Comet Hale-Bopp – it was readily visible to the unaided eye near 3rd magnitude and sporting both a prominent dust tail (which to my unaided eye appeared 12 degrees long the previous night) as well as a distinct ion tail. The dust tail has exhibited the so-called "synchronic bands" (discussed in a future "Special Topics" presentation), and meanwhile shortly after perihelion passage spectroscopic observations of the comet revealed an unusually large amount of sodium within its coma.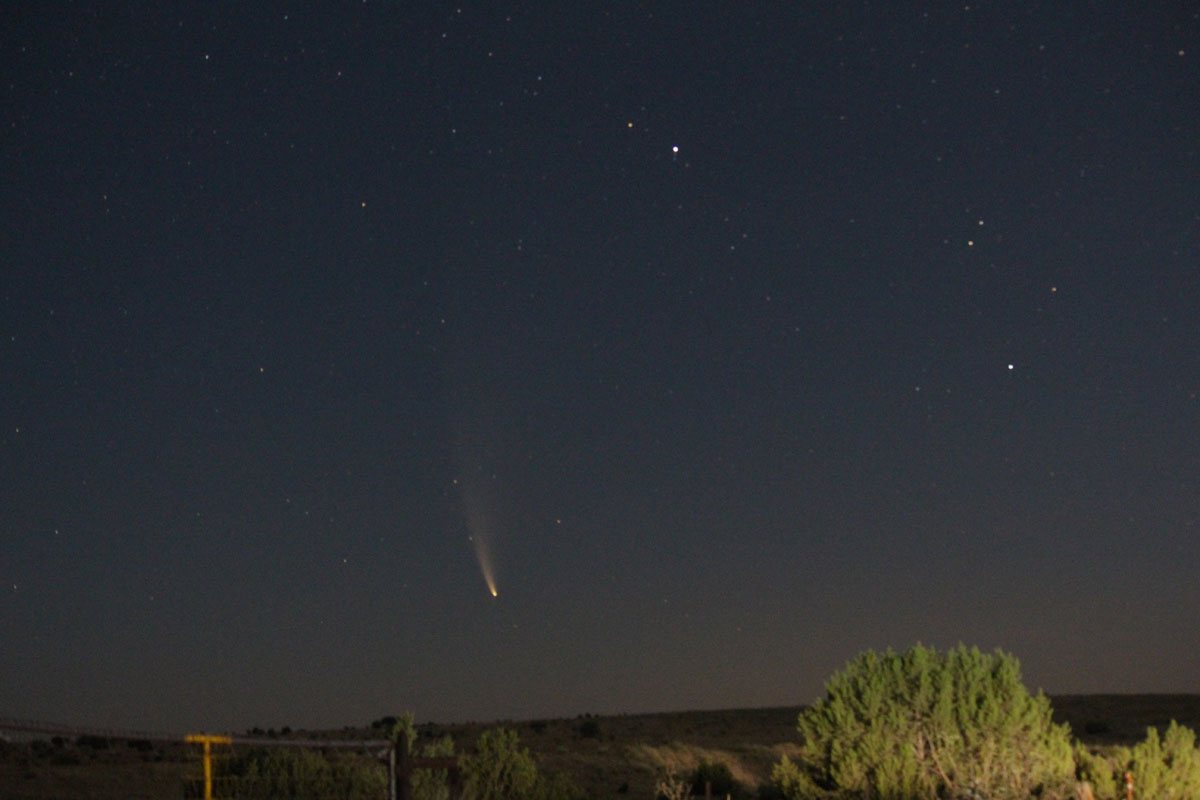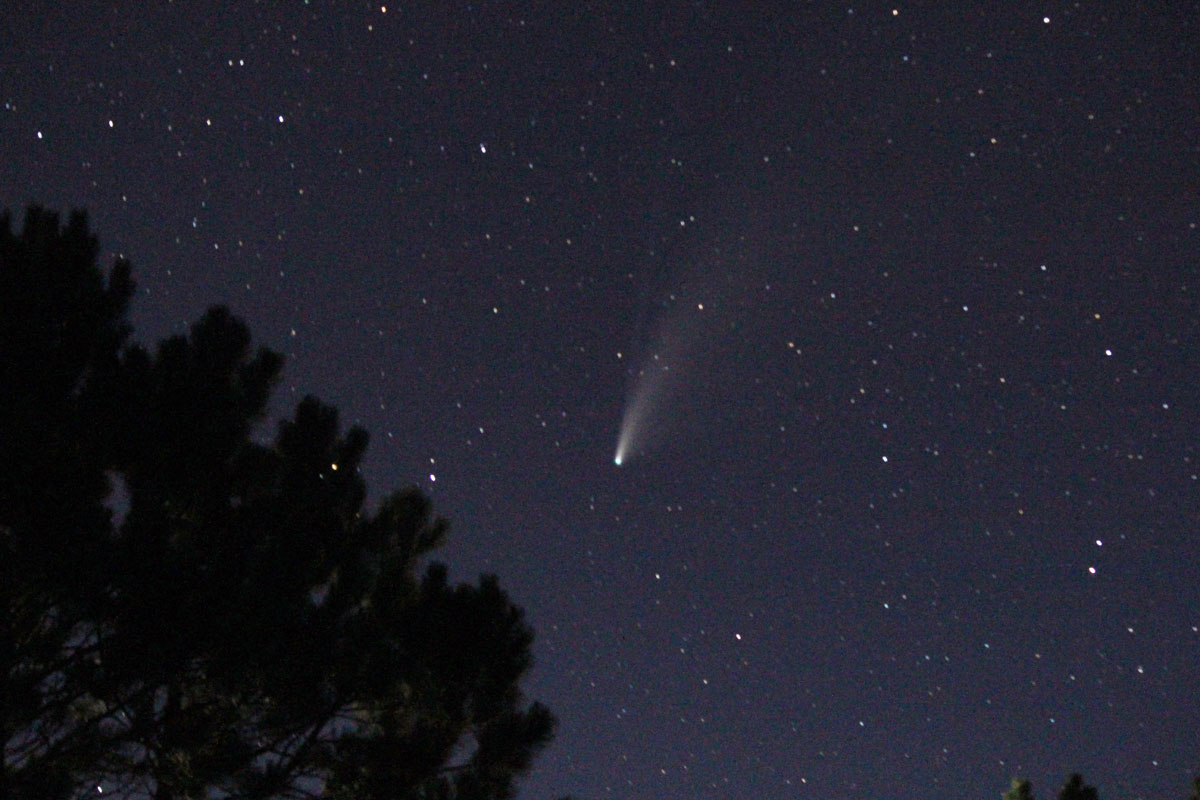 Photographs I have taken of Comet NEOWISE. Left: Morning sky, July 11, 2020. Right: Evening sky, July 21, 2020. I had hoped to photograph the comet the following night -- the 25th anniversary of my discovery of Comet Hale-Bopp -- but was clouded out.
At this time Comet NEOWISE – still visible to the unaided eye near 3rd magnitude – remains in the western sky during the evening hours as it travels southward, and is now starting to become accessible again to observers in the southern hemisphere. It continues to travel southward over the coming weeks and should continue fading before disappearing into evening twilight around mid-October.
"Comet of the Week" archives
Ice and Stone 2020 home page
Earthrise Institute home page