(6478) GAULT
Perihelion: 2020 January 2.79, q = 1.859 AU
It has been obvious for several decades that the dividing line between "comets" and "asteroids" is, in a word, nebulous, and some facets of this will be explored in future "Special Topics" presentations. One group of objects that are included within this discussion were initially referred to as "main belt comets," so called because they are objects traveling in near-circular orbits within the main asteroid belt that nevertheless have exhibited behavior typical of active comets. That term has now been largely supplanted by the term "active asteroids," which among other things recognizes that there are objects under this umbrella that orbit outside the main asteroid belt. The activity exhibited by some of these objects does genuinely seem to be due to the sublimation of volatiles that is typical of comets, but the activity exhibited by other such objects appears to be due to various other mechanisms. The entire subject of "active asteroids" is the topic of a future "Special Topics" presentation.
One of the most dramatic examples of an "active asteroid" is an object discovered on May 12, 1988 – and provisionally designated as 1988 JC1 – by Carolyn and Eugene Shoemaker during the course of their photographic survey for near-Earth asteroids conducted from Palomar Observatory in California. After several observations over the next few years – including an accidental "re-discovery" from Catalina Observatory in Arizona in May 1995 – it received the permanent number (6478) in July 1995, and in July 1999 it was officially named "Gault" in honor of planetary geologist Donald Gault who was an expert in impact and cratering processes on planetary bodies. Gault is apparently a stony-type asteroid approximately 4 km in diameter; it orbits within the inner regions of the main asteroid belt in a low-eccentricity orbit (0.19) with an orbital period of 3.50 years.
For the first two decades following its discovery Gault apparently behaved as a seemingly "ordinary" asteroid. However, on January 5, 2019, an image taken during the course of the ATLAS survey in Hawaii showed that Gault was accompanied by a bright, straight tail-like structure over two arcminutes long. Several images taken elsewhere, including a Las Cumbres Observatory image that I took on January 8, confirmed this feature, and in fact I measured it as being slightly over four arcminutes in length.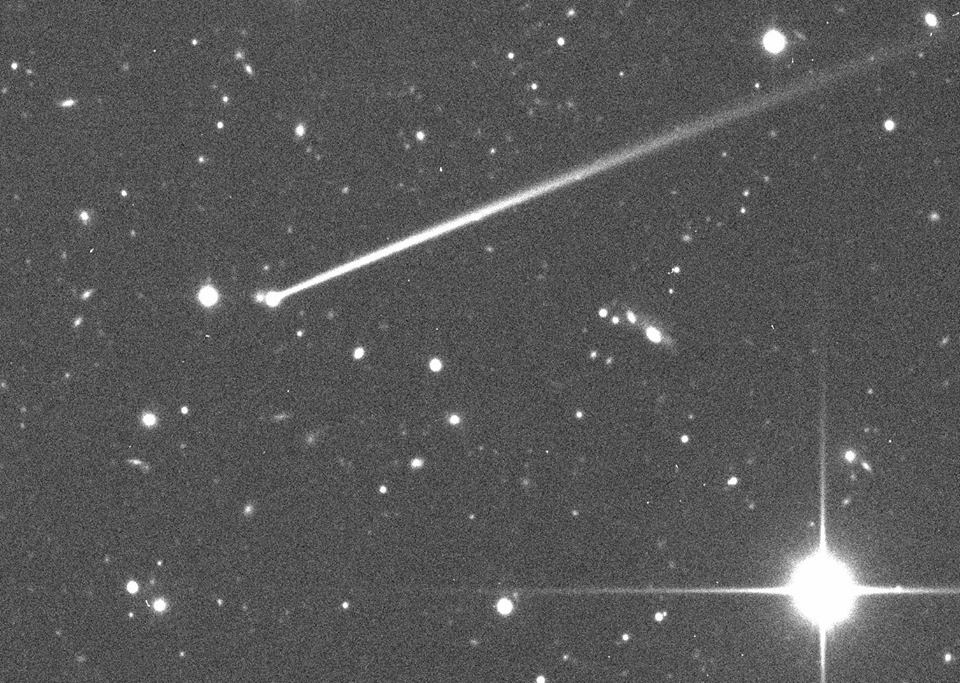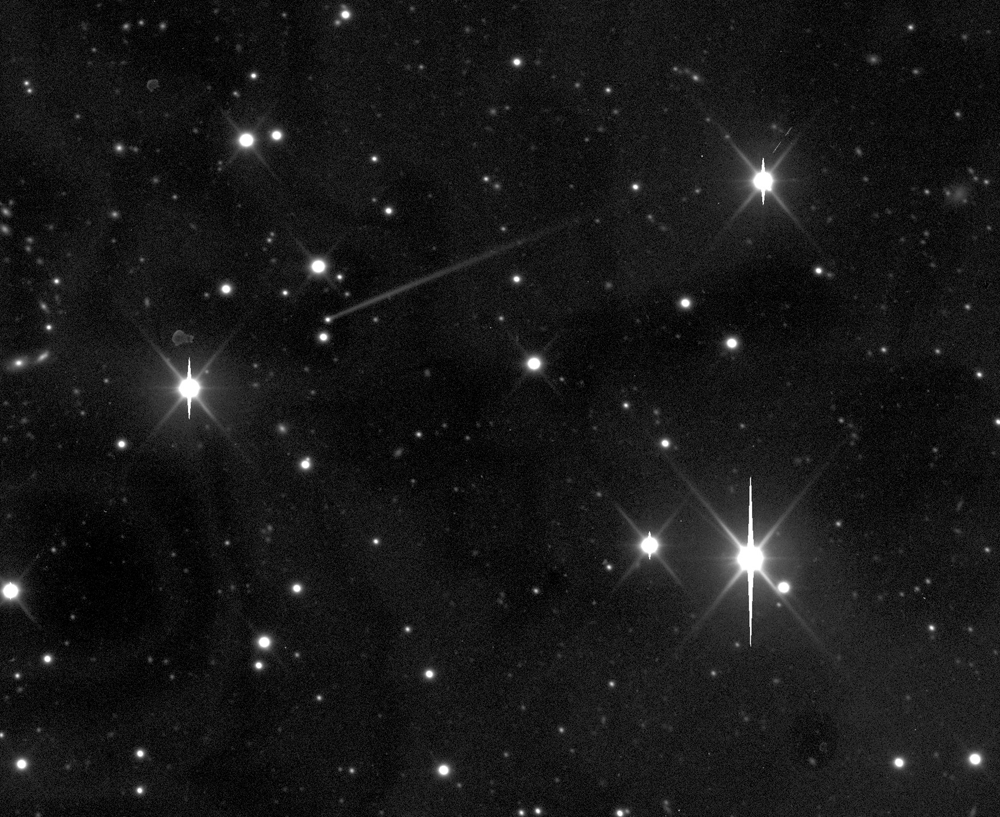 LEFT: The image which first indicated the activity on Gault, taken January 5, 2019, during the course of the ATLAS program in Hawaii. Courtesy Ken Weiland and ATLAS. RIGHT: The confirming image I took with the 1-meter telescope of the Las Cumbres Observatory facility at the South African Astronomical Observatory on January 8, 2019.