approximately half a magnitude) per year, with much of this material falling back onto the nucleus creating a crust that in turn allows pressure to build up underneath and form "cryomagma." The larger and more conventional outbursts then arise from eruptions of "cryovolcanoes" on the surface.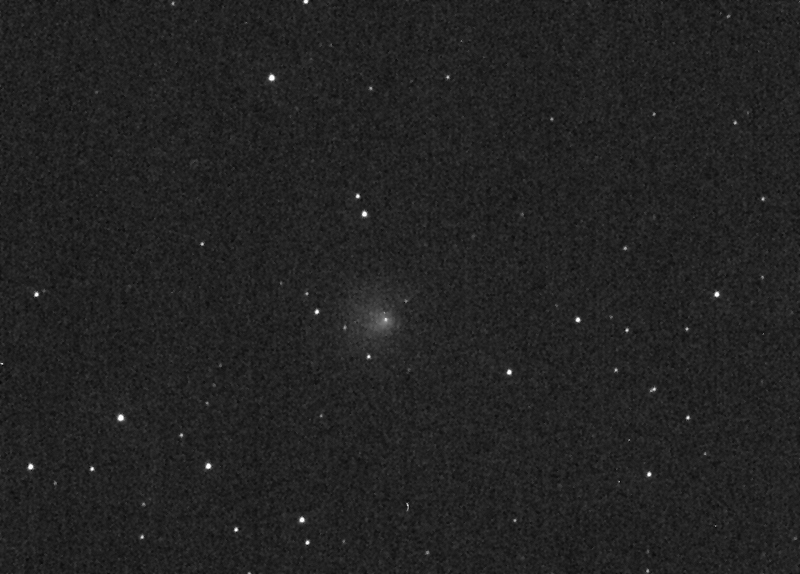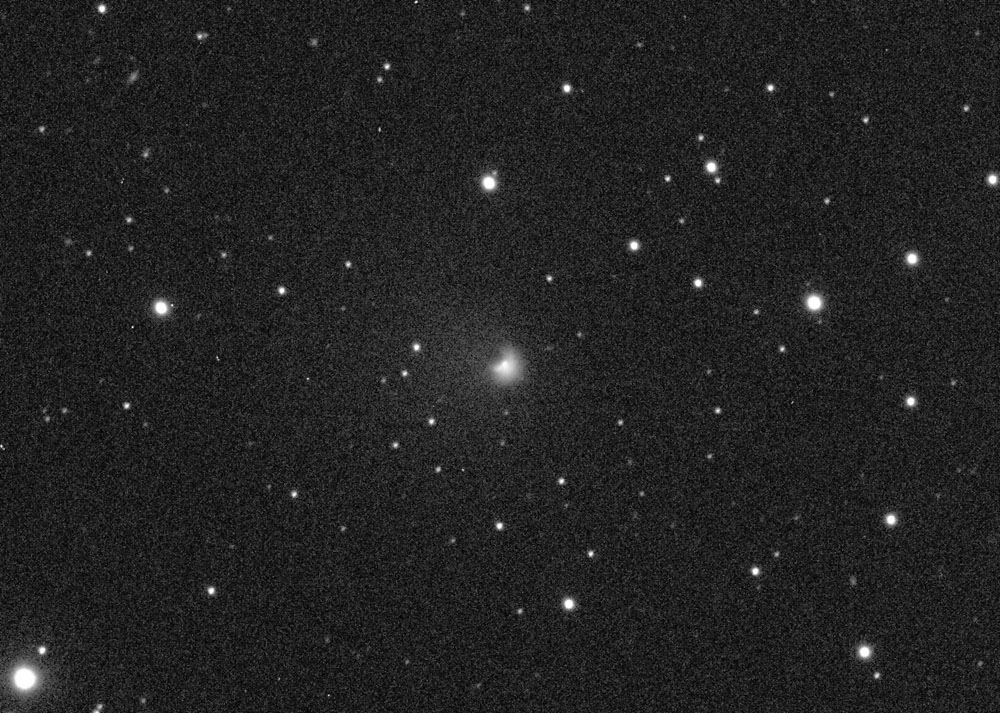 Images of Comet 29P I have taken with the Las Cumbres Observatory facility at Cerro Tololo Inter-American Observatory in Chile. Left: October 10, 2018, about three weeks after the onset of a large outburst. Right: November 28, 2018. A fresh outburst has just started, evidence by the bright central coma; the dispersing coma from the previous outburst is faintly visible extending to the east (left).
In the late 2030s Comet 29P will again undergo an extended encounter with Jupiter, which will increase its perihelion distance further to 5.9 AU, its eccentricity to 0.07, and its orbital period to 15.9 years. Over longer timescales, its orbit is chaotic (in a mathematical sense), and at some point in the future – perhaps a few thousand years from now – Jupiter will either perturb it into a smaller, shorter-period orbit in the inner solar system, or else place it into a hyperbolic orbit and eject it from the solar system altogether. Indeed, from a dynamical perspective, Comet 29P's orbital evolution is similar to that of centaurs – discussed in a previous "Special Topics" presentation – and by some definitions it can actually be considered as such an object. A recent study by a team of astronomers led by Gal Sarid at the University of Central Florida concludes that Comet 29P presently occupies what could be considered a "gateway" between the Kuiper Belt object-to-centaur progression and short-period Jupiter-family periodic comets. If, in a few thousand years' time, Comet 29P were to become such a periodic comet, it would likely be an amazingly spectacular object, that moreover returns every few years to brighten up the nighttime sky. It is thus possible that our descendants in a few millennia may be in for quite a show.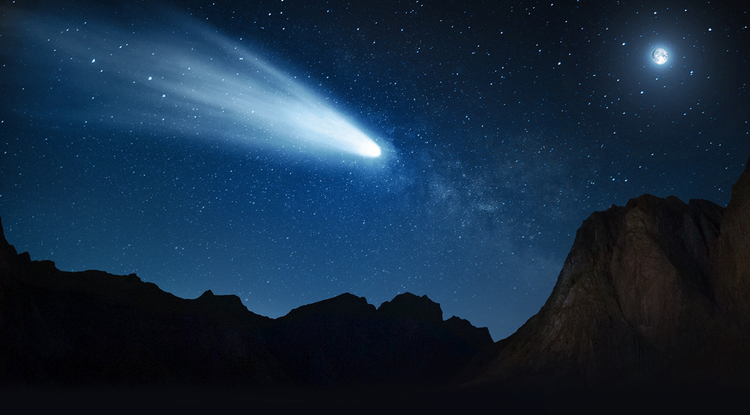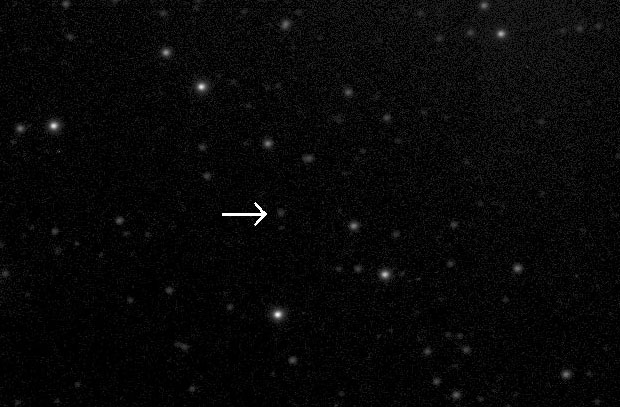 LEFT: Artist's conception of Comet 29P in a few millennia if it should get perturbed into a short-period Jupiter-family comet's orbit. Courtesy Heather Roper. RIGHT: The recently-discovered object 2020 MK4, as imaged on July 16, 2020 by the Las Cumbres Observatory facility at the South African Astronomical Observatory.
Curiously, just this past June the Pan-STARRS program in Hawaii discovered a faint object, designated 2020 MK4, that is traveling in a near-circular orbit strikingly similar to that of Comet 29P. Its physical nature is still somewhat unknown, but the fact that it has not been detected on images taken before this year, and some data that appears to show some weak activity, suggests that it could be a comet similar to, albeit quite a bit smaller than, Comet 29P, that possibly has recently become active and that conceivably could also be in a "gateway" status. Meanwhile, two spacecraft missions, dubbed Centaurus and Chimera, have been proposed for missions to Comet 29P, although neither of these have been selected for further development at this time.
"Comet of the Week" archives
Ice and Stone 2020 home page
Earthrise Institute home page
SPECIAL ADDENDUM
It is most appropriate that this comet should undergo a new outburst during the very week that it is the "Ice and Stone 2020" "Comet of the Week." The new outburst took place on November 19 and was first independently detected by amateur astronomers Jean-Francois Soulier in France and Nick James in England, both of whom are collaborating with Richard Miles in the observing campaign mentioned above. After reading of their reports, I successfully observed the comet visually about 16 hours later, and it appeared as a small condensed object near magnitude 13½. British amateur astronomer Martin Mobberley has posted an image of the comet he took about three hours before my observation that illustrates this basic appearance.
If this outburst follows the pattern that most outbursts follow, this small and condensed inner coma will expand out and grow progressively more diffuse over the next two to three weeks. The comet should remain visually detectable near the same brightness for about that same length of time before fading out – unless, of course, new outbursts occur, which are always possible.