he did so within the context of his ideas concerning gravity. A significant sticking point was that he initially believed that the pre-perihelion appearance of the comet in the morning sky, and the post-perihelion appearance in the evening sky, were in fact two separate comets, and it wasn't until observations by his contemporary John Flamsteed and by his friend Edmond Halley conclusively demonstrated this that he finally, and somewhat begrudgingly, accepted that these were in fact one and the same comet. Once he did so he was able to apply his law of Universal Gravitation to the comet and determine a reasonable orbit for it. (Among other things, his work produced a mathematical foundation for Kepler's Three Laws of Planetary Motion, which Kepler had arrived at empirically.) Newton's work on the Great Comet of 1680 featured somewhat prominently in his Philosophiae Naturalis Principia Mathematica (Mathematical Principles of Natural Philosophy), usually known as the Principia, wherein he laid out his ideas on gravitation.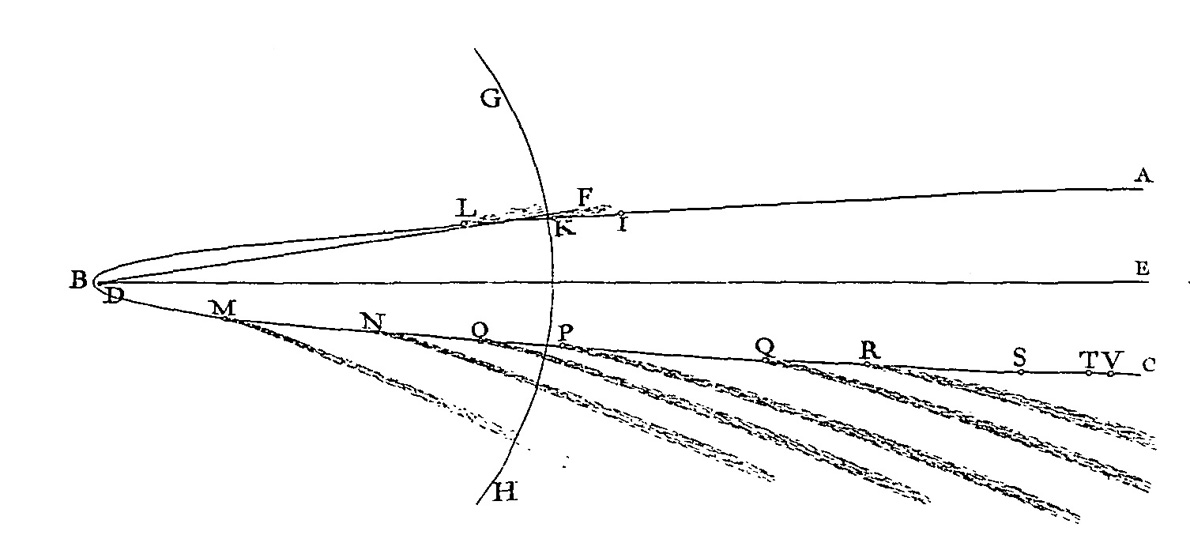 Isaac Newton's diagram of his calculated parabolic orbit for the Great Comet of 1680, as shown within the Principia.
The publishing of the Principia is often considered as being one of the first significant events of The Enlightenment. Halley played a major role in funding the publishing of the Principia, and encouraged his friend Newton to apply his methods to calculating the orbits of additional comets. It would be Halley himself, though, who would end up taking on that task, and in the process he would "discover" the comet that now bears his name. This story is told in that object's "Special Topics" presentation.
The Great Comet of 1680's unusually small perihelion distance is reminiscent of that of the Kreutz sungrazers, and while it can accordingly be considered as a sungrazing comet, it is not, however, a member of that group. Its orbital inclination (61 degrees) is dramatically different from that of the Kreutz sungrazers (in general, 142 to 144 degrees), and while it was well visible from the northern hemisphere, as will be demonstrated by next week's "Comet of the Week" the visibility of a Kreutz sungrazer passing through perihelion at this time of the year is pretty much restricted to the southern hemisphere.
"Comet of the Week" archives
Ice and Stone 2020 home page
Earthrise Institute home page