The discovery of the planet Uranus by British astronomer William Herschel in 1781 essentially doubled the size of the then-known solar system. During the years after Uranus' discovery astronomers began to notice small discrepancies in its orbital motion, and at least two individuals – a young British astronomer named John Adams, and a French mathematician, Urbain Le Verrier – concluded that these might be due to perturbations by an unknown planet orbiting the sun beyond Uranus, and attempted to calculate where in the sky such a planet might be located. Adams' calculations, which were rather imprecise to begin with, were essentially ignored by astronomers in England, however Le Verrier was able to have his predictions communicated to Johann Galle and Heinrich d'Arrest at the Berlin Observatory in Germany, who in turn found the planet we now call Neptune within an hour of searching and within one degree of Le Verrier's predicted position.
While Neptune's discovery seemed to take care of most of the discrepancies in Uranus' orbital motion, there still seemed to be some minor discrepancies left over, and some astronomers concluded that there might still be another planet beyond Neptune. One such person was the wealthy American amateur astronomer Percival Lowell, who built his namesake observatory near Flagstaff, Arizona in 1894 and who popularized the idea that Mars had been inhabited by a dying civilization and had accordingly built a worldwide network of "canals." Lowell calculated positions for a so-called "Planet X" and initiated search efforts from Lowell Observatory in 1906 which he continued up until his death ten years later; it turns out that his object did show up on a couple of his search photographs but he didn't recognize them at the time.
Following a protracted legal battle with Lowell's widow, Lowell Observatory resumed the search for "Planet X" in 1929 and hired a 23-year-old amateur astronomer from Kansas, Clyde Tombaugh, to conduct the actual search. Tombaugh's job was to take large-field photographs of regions of the night sky in pairs separated by a few nights, and then to compare these pairs of photographs using a device called a "blink comparator" to search for moving objects. On the afternoon of February 18, 1930, while comparing two photographs taken on January 23 and 29 of that year, he spotted a slow-moving 15th-magnitude stellar object relatively close to the predicted location of Lowell's "Planet X," and after verification of the object's existence and motion over the next couple of weeks Lowell Observatory announced the discovery on March 13, 1930, the 149th anniversary of Herschel's discovery of Uranus.
Lowell Observatory received numerous suggestions for a name for the newly-discovered world, but soon settled on "Pluto," which had been suggested by an 11-year-old schoolgirl from Oxford, England named Venetia Burney. Pluto, the Roman god of the underworld, seemed an appropriate name for a world located in the distant outer reaches of the solar system, and it was not lost on the Lowell staff at the time that the first two letters of the name "Pluto," i.e., "PL," are the initials for Percival Lowell.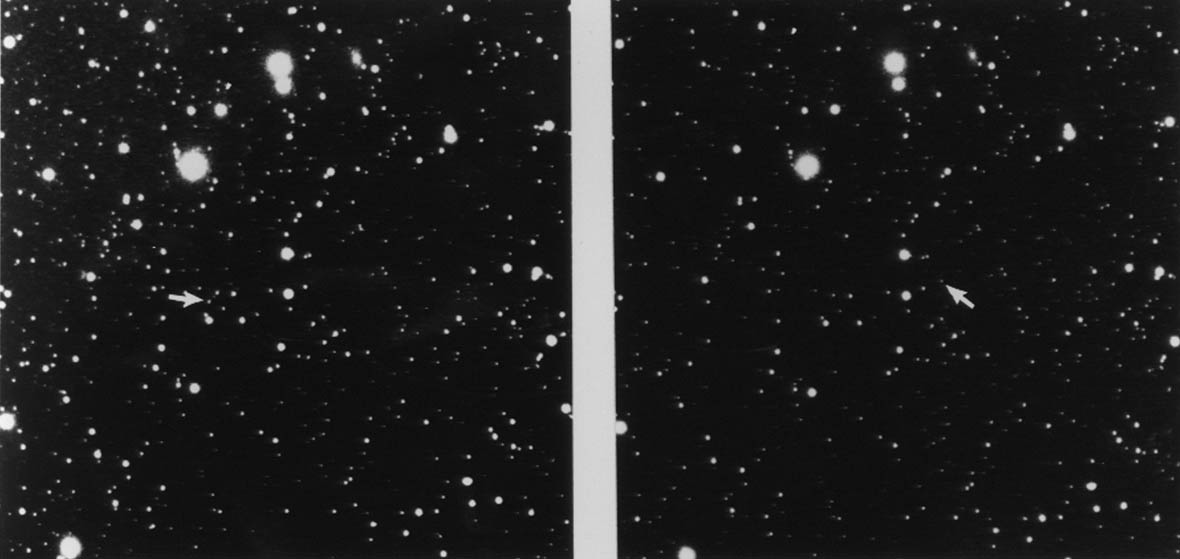 The discovery images of Pluto, taken from Lowell Observatory in Arizona on January 23 (left) and January 29 (right), 1930. Pluto is arrowed. Courtesy Lowell Observatory.
Being as distant as it is, and as dim as it is, very little information could be gleaned about Pluto for quite some time. Not much could be discerned about its physical nature, although the general assumptions were that it was perhaps approximately the size of Earth. The orbital period has been calculated as being 248 years, with an inclination of 17 degrees, unusually large for a planet. Furthermore, although Pluto's average distance from the sun is 39.5 AU, it has a distinctly non-circular orbit, with an eccentricity of 0.25; for 20 years of its orbit it is actually closer to the sun than Neptune. Such was the situation between 1979 and 1999, with perihelion passage at a heliocentric distance of 29.66 AU taking place on September 5, 1989. Meanwhile, detailed studies of Pluto's brightness behavior revealed small periodic brightness variations which suggested a rotational period of 6.4 days.
Continued studies of Pluto over subsequent decades, including a couple of near-miss occultations of background stars, suggested that it is smaller than was originally believed, and estimates of its diameter and mass kept being revised downward. The big breakthrough finally came on June 22, 1978, when U.S. Naval Observatory astronomer James Christy was examining photographs of Pluto that had been taken for astrometric purposes, and noticed that a small "bump" regularly appeared in the images of Pluto but not in the images of surrounding stars. Christy concluded that he had found a moon orbiting Pluto, and with its appearances indicating an orbital period of approximately 6.4 days this in turn suggested that it was in synchronous orbit around Pluto. Christy named this putative moon "Charon," after the ferryman across the River Styx in Greek mythology.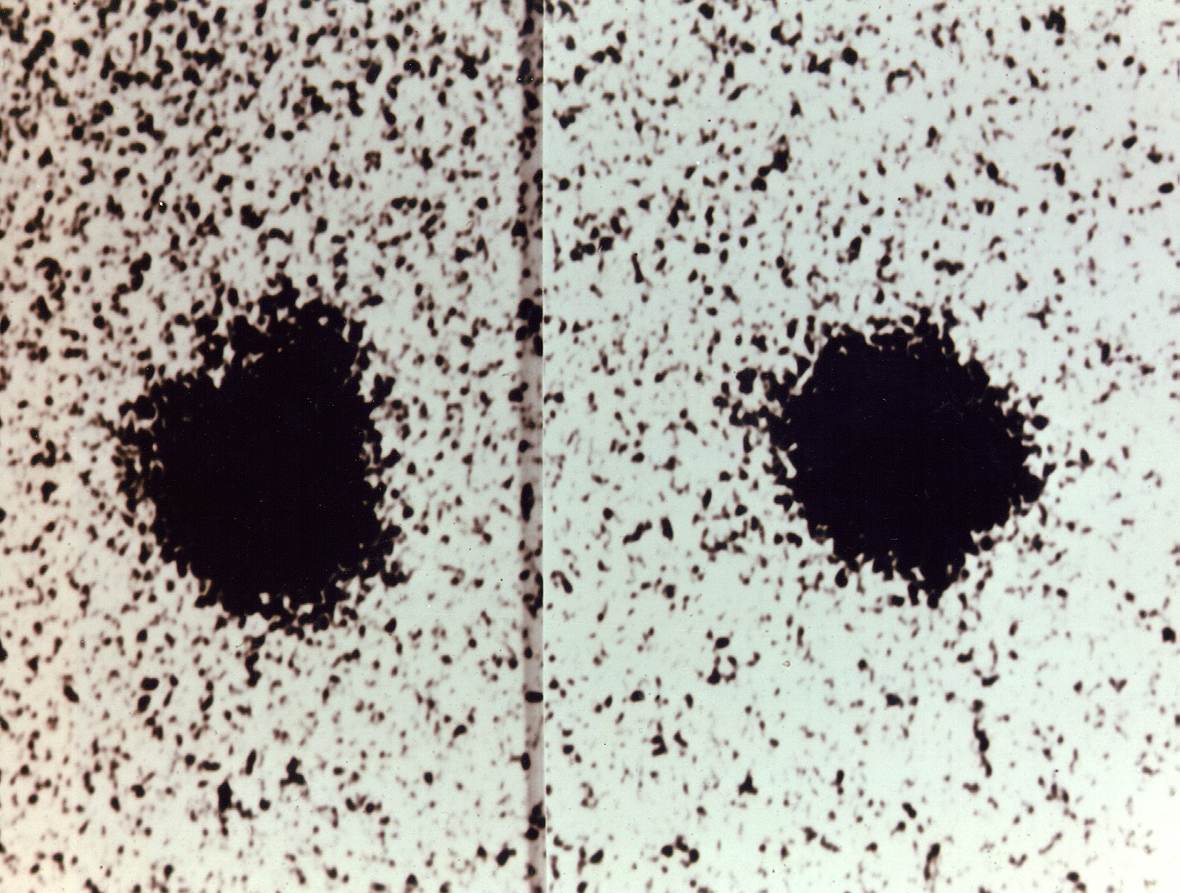 LEFT: The discovery images of Charon. Charon is the "bump" to the upper right of the image of Pluto on the left photograph, taken June 22, 1978. Courtesy U.S. Naval Observatory. RIGHT: A photograph of me (center) in my graduate school days (circa 1989-90) in the conference room in the NMSU Astronomy Department. At left is Clyde Tombaugh, discoverer of Pluto, and at right is James Christy, discoverer of Charon.
The discovery of Charon allowed a rather precise determination of Pluto's mass (from Newton's Law of Universal Gravitation), which has been found to be only 1/6 of the moon's mass. Furthermore, due to a fortuitous alignment of Charon's orbit around Pluto with respect to Earth, in early 1985 Pluto and Charon began a series of mutual occultation events – i.e., each object regularly passing in front of and then behind the other – that lasted for the next five years. In addition to allowing final confirmation of Charon's existence, these events also allowed accurate size measurements to be made of both objects: Pluto's diameter is slightly under 2400 km (a little over 2/3 of the moon's diameter), and Charon's diameter is just over 1200 km – just over 1/3 of the moon's diameter and almost exactly half of Pluto's diameter.
In hindsight, Pluto is clearly nowhere near massive enough to have caused any discernible changes in Uranus' orbit, and the fact that it was discovered fairly close to Percival Lowell's predicted location for "Planet X" can be nothing more than a coincidence. The Voyager 2 encounter with Neptune in 1989 allowed for a more precise determination of that planet's mass, and the revised value alone eliminates the minor discrepancies that existed earlier.
On June 9, 1988, Pluto occulted a 12th-magnitude star in the constellation Virgo. Both the star's disappearance and reappearance were gradual rather than abrupt, thus providing the first direct evidence that Pluto has at atmosphere, albeit a relatively thin one. Studies since then have shown that the atmosphere is primarily made up of nitrogen and smaller amounts of methane and carbon monoxide. Since Pluto was then fairly close to its perihelion passage there has been some speculation that the atmosphere is temporary and is being produced by solar heating – what little there is at such a distance – sublimating its surface materials. Since the atmosphere is still persisting today, three decades beyond Pluto's perihelion – as revealed by Pluto's occultation of a 13th magnitude star in August 2018 – the situation is apparently more complex than that, and it will likely be another few decades – as Pluto continues to recede from perihelion – before this can be sorted out.