generation successor to IRAS -- discovered 17 comets and numerous asteroids, including the first-known (and, so far, only known) "Earth Trojan" (2010 TK7). Although its longer-wavelength detectors are no longer operational, during recent years WISE (under the mission name NEOWISE) has continued to search for comets and near-Earth asteroids, and as of this writing has discovered 14 additional comets.
One other infrared-sensitive space telescope that has been utilized for numerous comet observations is the Spitzer Space Telescope, launched in 2003 and just recently retired from service. One of Spitzer's more unique observations involves the "asteroid" (3552) Don Quixote which was discovered in 2003, and which travels in a rather high-eccentricity comet-like orbit and had thus been considered a possible "extinct" comet. When Don Quixote returned in 2009 Spitzer detected clear signs of a small coma and a short tail, as well as possible emission of carbon dioxide. Cometary activity around Don Quixote was detected optically during its subsequent return in 2018, and this detection, combined with the Spitzer observations, show that Don Quixote is still an active comet (albeit at a low level).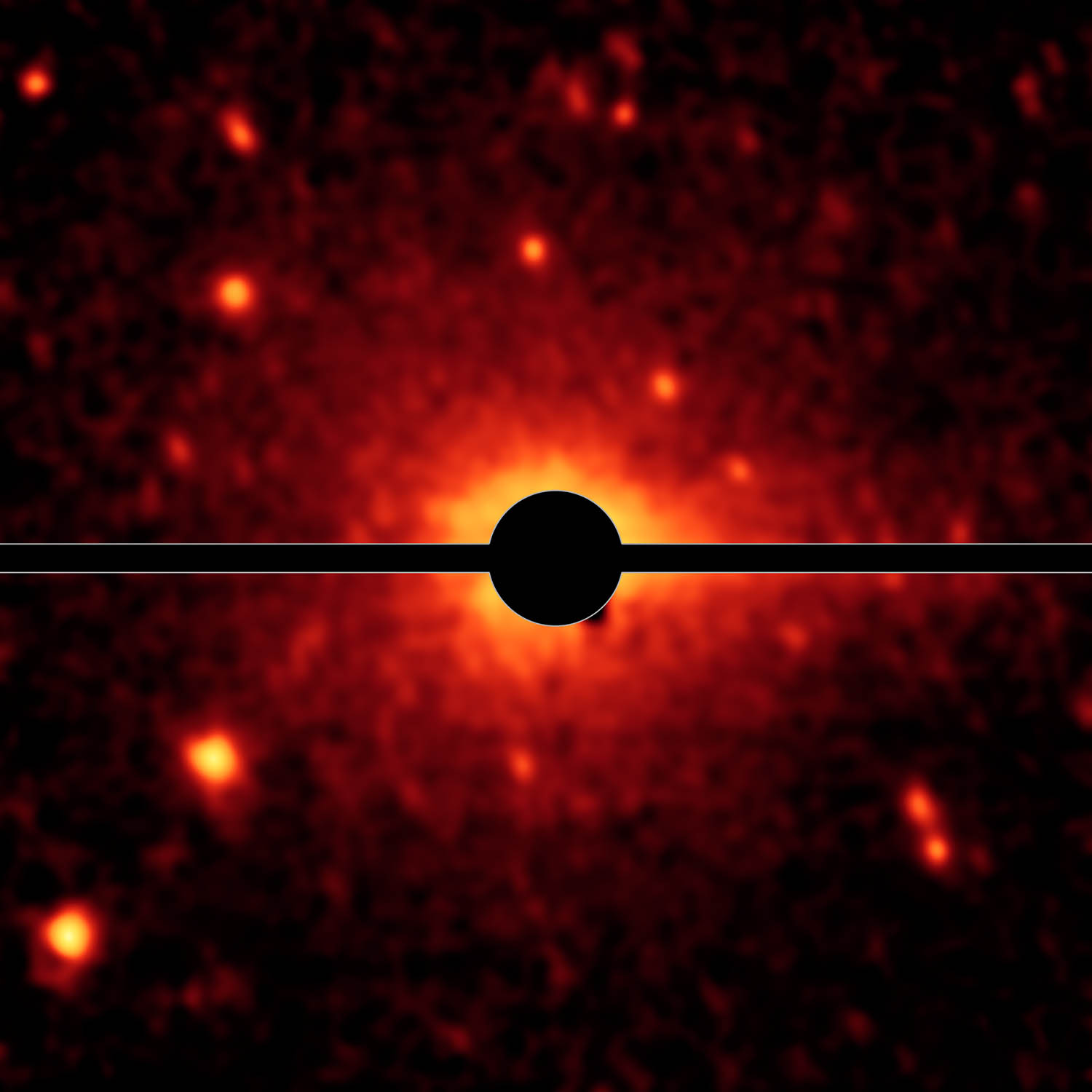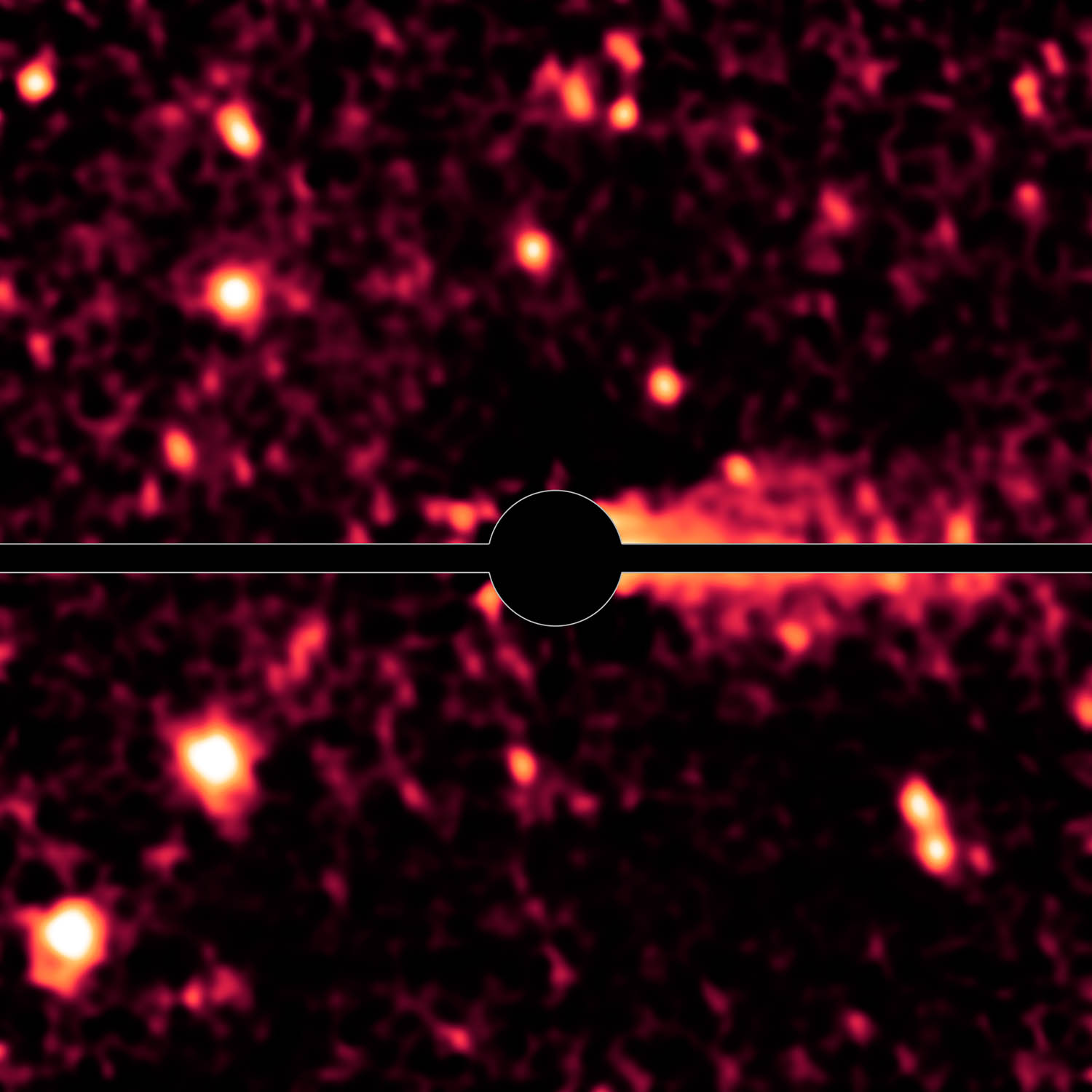 4.5-micron images of (3552) Don Quixote taken with the Spitzer Space Telescope on August 22, 2009. Left: The stellar central condensation has been subtracted out, revealing the faint surrounding coma. Right: The coma has been subtracted out, revealing a faint tail. Images courtesy NASA/JPL-CalTech-DLR-NAU.
The absence of the scattering effects of an atmosphere makes it at least theoretically possible to examine the region of the sky close to the sun, and accordingly space-based coronagraphs have been utilized for this purpose for some time. The first space-based coronagraph observations of a comet came with Comet Kohoutek 1973f in late 1973, when coronagraphs aboard both the Orbiting Solar Observatory 7 (OSO-7) satellite and aboard the Skylab space station detected it as a bright object near the sun around the time of perihelion. The astronaut crew aboard Skylab also observed and photographed Comet Kohoutek around that time, and as Comet Kohoutek is a future "Comet of the Week" I will discuss these observations in that presentation.
Numerous comets have been detected in coronagraphs aboard the U.S. Defense Department satellite P78-1, the Solar Maximum Mission, SOHO, and the twin spacecraft of the Solar and TErrestrial RElations Observatory (STEREO) mission. Many of these comets have been discoveries by the respective missions; indeed, SOHO has as of now discovered over 3800 small comets passing close to the sun. A large number of these comets – although not all of them – have been small Kreutz sungrazers, and a couple of these objects are future "Comets of the Week" and I will discuss them more thoroughly there and in a future "Special Topics" presentation.
Somewhat surprisingly, comets have also been observed with x-ray sensitive orbiting telescopes. Cometary x-rays were first observed by the German Roentgensatellit (ROSAT) spacecraft in March 1996 near Comet Hyakutake C/1996 B2 (which was passing close to Earth at that time and which is a future "Comet of the Week"). Once these were found, astronomers combing through archived ROSAT data found x-ray emission from several previous comets, including – rather remarkably – an otherwise dim and unremarkable comet, Comet Arai 1991b, six weeks before that comet's discovery. In general, the x-rays came not from the comets themselves but rather from crescent-shaped regions sunward of their nuclei, and their origin remained a mystery for some time. Finally, observations of Comet LINEAR C/1999 S4 by the Chandra X-Ray Observatory in July 2000 showed that the x-rays were due to specific ions of oxygen and nitrogen and were being produced by charge-exchange reactions between energetic particles in the solar wind and neutral atoms and molecules in the comet's environment.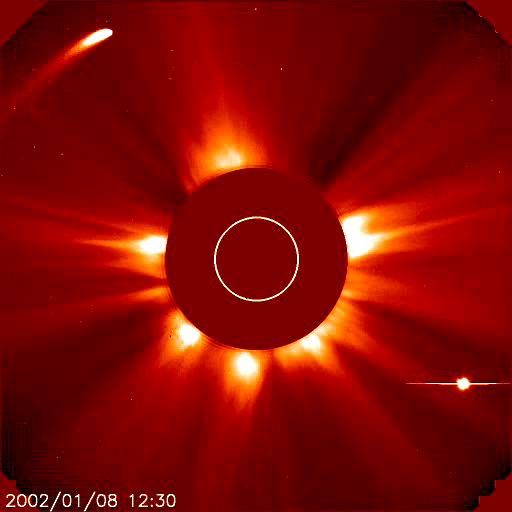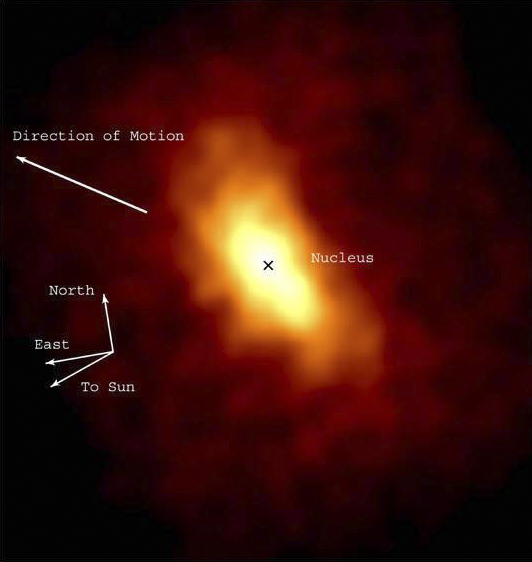 LEFT: Comet 96P/Machholz 1 in the LASCO C2 coronagraph aboard SOHO on January 8, 2002. The bright object at lower right is Venus. Courtesy NASA/ESA. Right: X-ray image of Comet LINEAR C/1999 S4 taken by the Chandra X-ray Observatory on July 14, 2000. Courtesy NASA.
Any discussion of space-based comet observations would be incomplete without mention of the Hubble Space Telescope. Hubble was deployed from the Space Shuttle Discovery on April 25, 1990, although within two months a serious problem was detected in its optical system which prevented images from being brought to a proper focus. (In effect, Hubble was "nearsighted.") The problem was corrected during a Shuttle Hubble Servicing Mission in December 1993, but in the meantime the development of sophisticated image processing techniques allowed for useful scientific images to be returned from Hubble despite the focusing issues.
The first comet observations made by Hubble were of Comet Levy 1990c – like several of the aforementioned comets, a future "Comet of the Week" – on September 27, 1990, and the images show strong jetting activity in the comet's inner coma. Since that time, and especially since the 1993 servicing mission, Hubble has taken images and other data of numerous comets, and should continue to do so up until the time it is no longer operational.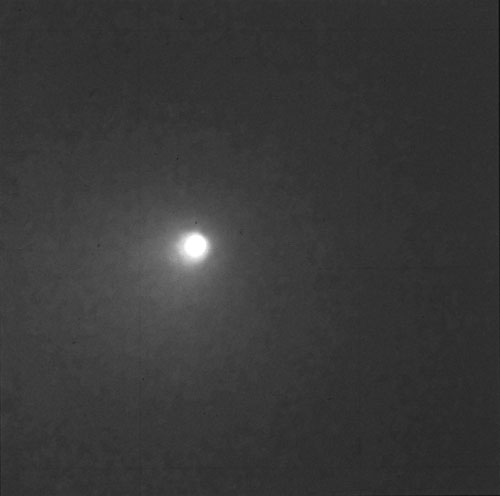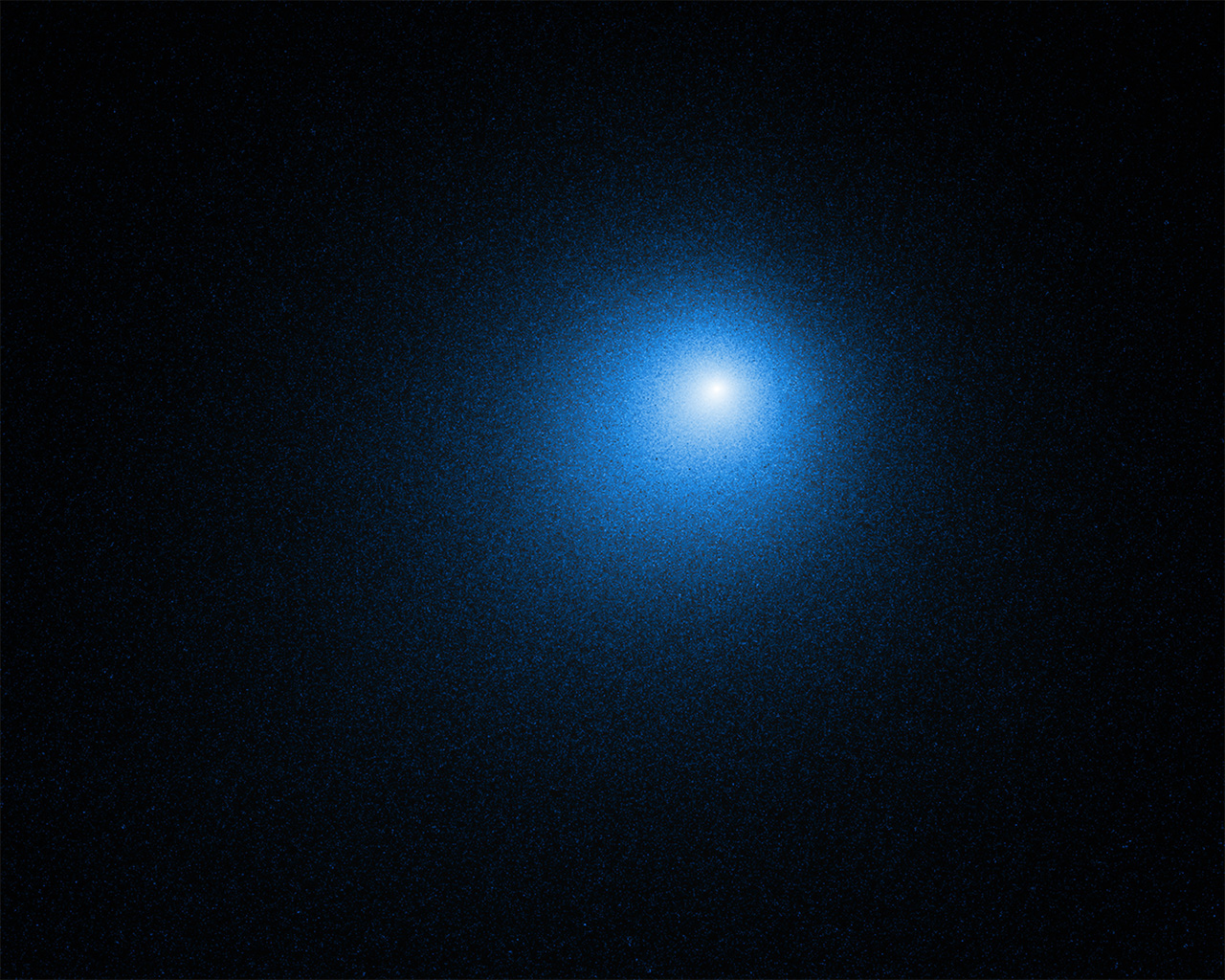 Images of comets taken with the Hubble Space Telescope. Left: The inner coma of Comet Levy 1990c, on September 27, 1990. Right: Comet 46P/Wirtanen on December 13, 2018, one day after an approach to Earth of 0.08 AU. Both images courtesy NASA.
Today, quite a few orbiting satellite missions are involved in making observations of comets and have contributed enormously to our understanding of these objects, and this should continue for the foreseeable future. One other facet of space-based comet observations involves spacecraft visits to these objects, and this subject will be treated in a future "Special Topics" presentation.
"Special Topics" archives
"Ice and Stone 2020" home page
Earthrise Institute home page