The "Special Topics" presentation four weeks ago was on the subject of the small moons of the various planets in the solar system. It would seem reasonable to think that the bodies that possess moons don't stop with the major planets, but that many of the "small bodies" that are the focus of "Ice and Stone 2020" also possess moons. Indeed, this has been found to be true.
What could perhaps be considered as the first confirmed moon of a "small body" is Pluto's large moon Charon, which was discovered in 1978 (and which is discussed as part of the overall "Special Topics" presentation on Pluto several weeks ago). However, since Pluto somewhat straddles the (arbitrary) line between what is and what is not a "planet" – being a member of the recently-created category of "dwarf planets" – and since Charon is a unique world in its own right that is 1.3 times the diameter of (1) Ceres and thus would be a "dwarf planet" were it not part of the Pluto system, it would seem to be stretching things a bit to refer to it as a "small body" moon. At around the same time as Charon's discovery, a couple of moons around main-belt asteroids were suspected as a result of one-time occultation events, however neither of these reported objects has been confirmed. The first confirmed example of a moon accompanying an asteroid finally came on August 28, 1993, when NASA's Galileo spacecraft flew by the main-belt asteroid (243) Ida – which is 60 km by 19 km in size in its longest and shortest dimensions – and images taken during the flyby revealed a 1.5-km somewhat spherical moon that has since been named Dactyl.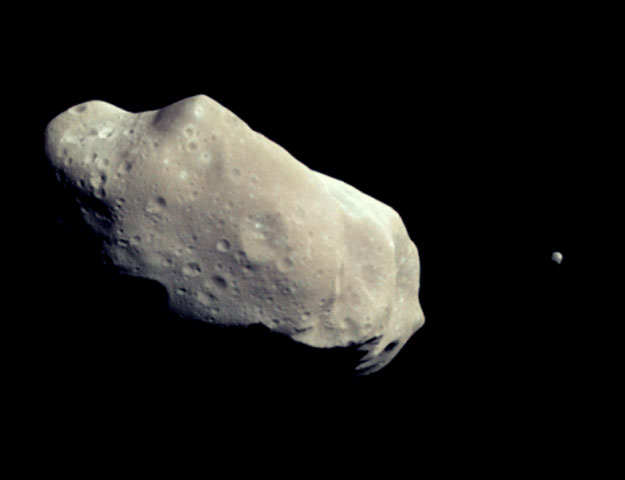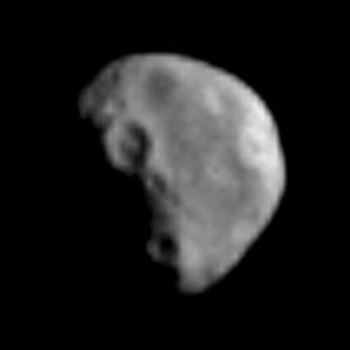 Images taken by NASA's Galileo mission on August 28, 1993 of the main-belt asteroid (243) Ida and its moon Dactyl. Left: Ida and Dactyl. Dactyl is the small object on the right side of the image. Right: Close-up of Dactyl. Both images courtesy NASA.
Since that time over 400 moons orbiting around "small bodies" in the solar system have been detected, although, curiously, besides Dactyl and one short-lived exception none of these have been found by visiting spacecraft despite all the various objects that have been visited. They have been discovered via a variety of techniques and around bodies all over the solar system, from near-Earth asteroids, to the main asteroid belt, to "Jupiter Trojan" asteroids – discussed in a future "Special Topics" presentation – and the Kuiper Belt (discussed in last week's "Special Topics" presentation). Some of the moons are tiny objects relative to their primary body, like Dactyl, while others are large enough such that the objects in question can almost be considered as "binary" systems, in a manner that the Pluto/Charon system can perhaps be so considered. Overall, the consensus among astronomers is that roughly 2% of asteroids in the main belt and in the near-Earth population contain moons, although based upon what has been detected thus far that percentage goes up to about 11% for objects within or beyond the Kuiper Belt.
Many of the asteroid moons have been discovered via direct detection, either with the Hubble Space Telescope or with large ground-based telescopes, often equipped with "adaptive optics" systems (that compensate for atmospheric turbulence). The first-discovered asteroid from the ground, which was also the first confirmed asteroidal moon after Dactyl, was detected around the large main-belt asteroid (45) Eugenia on November 1, 1998 by a team led by William Merline using the 3.6-meter Canada-France-Hawaii Telescope (CFHT) at Mauna Kea Observatory in Hawaii. This moon, originally designated S/1998 (45) 1 and now formally named Petit-Prince, is roughly 13 km in diameter (as compared to 214 km for Eugenia itself) and orbits around Eugenia every 4.8 days.