In an earlier "Special Topics" presentation I described how meteorites are classified based upon their respective compositions. As I indicated in that presentation, the majority of known meteorites are the "stony" meteorites composed primarily of various silicates, and of these, most contain small, roughly spherical particles called "chondrules" that are primarily made up of silicates that appear to have been melted while in interplanetary space, and these meteorites are accordingly called "chondrites." There are several different types of chondrites, again based upon their respective composition, but one type in particular is of high interest in various scientific investigations. These are often porous in structure and tend to be quite dark due to a large presence of organic, i.e., carbon-containing, substances, and are accordingly called "carbonaceous chondrites."
These meteorites constitute roughly 4% to 5% of all known meteorites. There are some compositional differences between them and thus there are as many as eight or nine sub-classifications of them, but they all share the same basic qualities of being rather porous and containing significant amounts of water and organic substances. They are also very old, and in fact radiometric dating suggests they are at least as old as Earth itself; some appear to pre-date even that. Carbonaceous chondrites are thus considered as being the most primitive objects in the solar system, and are accordingly highly prized since examination of them can provide valuable insights as to the conditions that existed during the very earliest days of the solar system.
Because of their relatively porous nature and their resulting fragility, many would-be carbonaceous chondrite meteorites do not survive their passages through the atmosphere, or at the very least they lose a significant part of their mass during their passage. Of those that do survive and reach the ground, they are in general quite susceptible to weathering and thus do not remain intact for very long. Although some have been found that apparently fell to the ground a long time ago – generally in pristine environments like Antarctica where erosional effects are minimized – most carbonaceous chondrites that have been well studied have come from observed meteorite falls.
One of the earliest observed carbonaceous chondrite meteorite falls was the Orgueil meteorite, which fell near the town of Orgueil in southern France on May 14, 1864. About 20 individual fragments were eventually collected, producing a combined mass of approximately 14 kg. The scientists examining it at the time commented on the rich content of organic substances within it, and a more recent discovery is that of a rare isotope of the gas xenon that is carried within very small and fine grains of diamond dust that are older than the solar system.
Although any carbonaceous chondrite meteorite fall is an event of high interest and the recovered meteorites the study of intense examination, there are two such meteorites that have an almost legendary stature in the study of these objects. Both of these fell a half-century ago, in the year 1969 – the same year as the first Apollo moon landings – and both have yielded significant and dramatic results from their examination.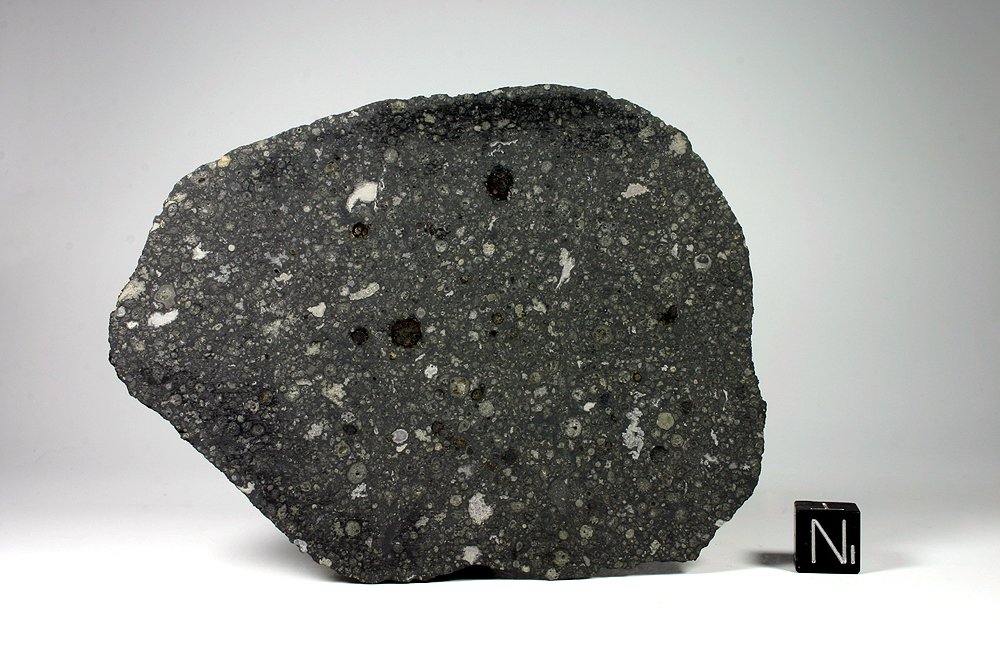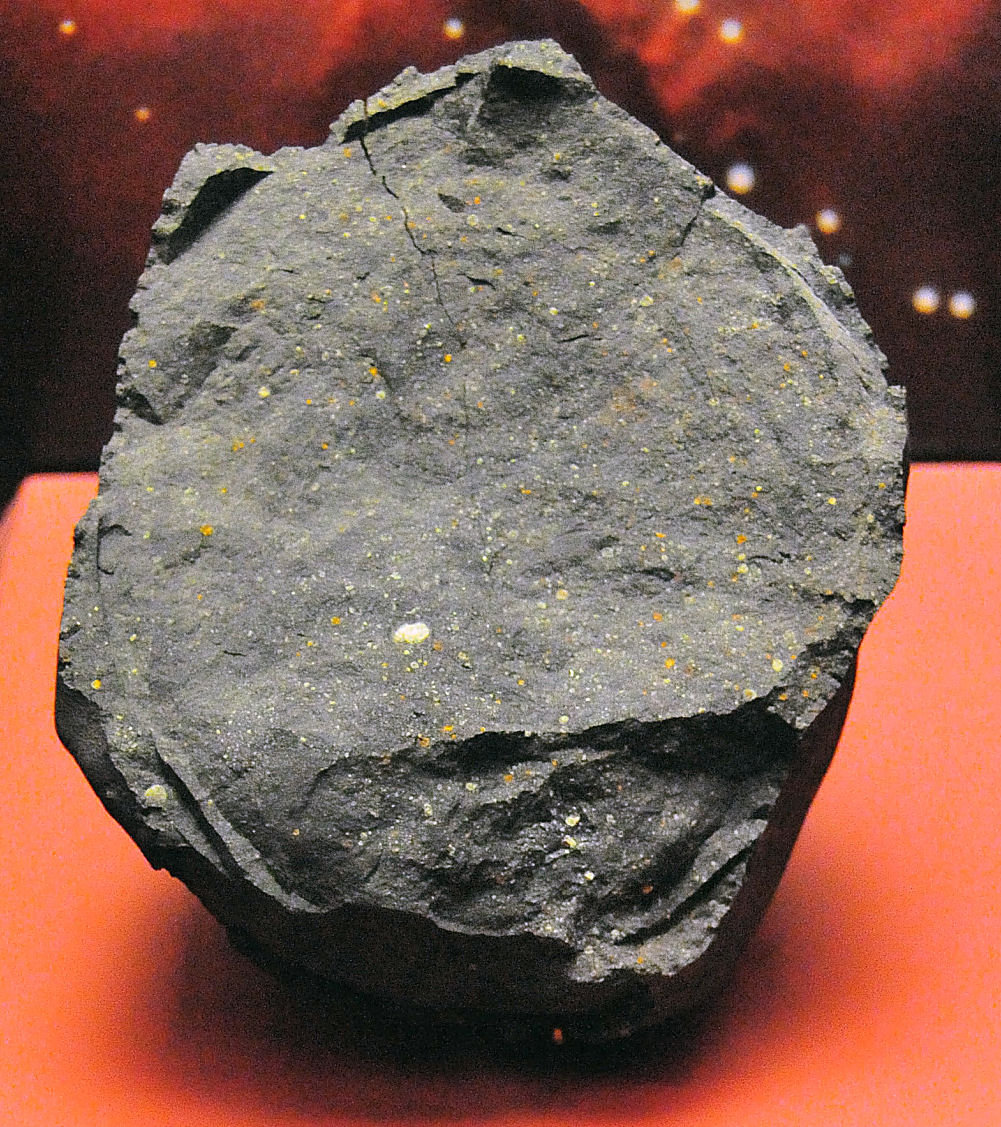 Fragments from the two major carbonaceous chondrite meteorites that fell in 1969. Left: The Allende meteorite. The cube is 1 cm in diameter. Courtesy Matteo Chinellato, licensed via Creative Commons. Right: The Murchison meteorite, displayed at the National Museum of Natural History in Washington, D.C. Copyright Basilicofresco, licensed via Creative Commons.
The first of these entered Earth's atmosphere over northern Mexico on February 8 and fell to the ground near the village of Pueblito de Allende in southern Chihuahua. It is the largest known carbonaceous chondrite meteorite fall known; several hundred fragments have been found – the largest having a mass of 110 kg – with a combined total mass of approximately two tons. The original entering object is estimated to have been a few meters in diameter.
The Allende meteorite has been described as "the best-studied meteorite in history." It is a representative of the sub-classification of carbonaceous chondrites that have a higher content of certain metals and a lower content of certain volatile substances than other sub-classifications. The presence of rare isotopes of some of the metals, as well as radiometric dating from aluminum-26 – as discussed in a previous "Special Topics" presentation – indicates that much of the material within Allende predates the solar system, and in fact some of it appears to be from substances not presently within the solar system. Our present models about the formation of the sun and the solar system suggest that shock waves from nearby supernova explosions triggered the material within the pre-solar gas and dust cloud to start collapsing and eventually form the objects we see today, and the presence of these isotopes within Allende lends material support to this idea.
The second of the two 1969 carbonaceous chondrites came from an object which entered Earth's atmosphere over southeastern Australia during the morning daytime hours of September 28 – producing not only a bright daytime fireball but also a trail of smoke – and fell to the ground near the town of Murchison in northern Victoria. Due to a strong collection effort by local residents, including 10- and 11-year-old brothers Peter and Kim Gillick, numerous pristine fragments were quickly collected, the largest one having a mass of 680 grams and with a total combined approximate mass of 100 kg.