The "Special Topics" presentation three weeks ago discussed actions that we might take should we detect an asteroid that appears will impact Earth. The first and foremost task is the collection of as much data as possible in order to refine the orbit and the likelihood of an actual impact, and if this continues to indicate that an impact is definite (or, at the very least, likely) then the discussion turns to what actions can be taken to eliminate or mitigate the threat posed by the object in question. For small objects that may not be discovered until they are already on their final impact trajectory there may not be much that can be done as far as eliminating the threat is concerned, however the data-gathering process can at least identify the "when" and "where" of an impact so that appropriate actions can then be taken to minimize destruction and loss of life.
The world's astronomers had the unexpected opportunity to test this process in October 2008 with the discovery of the asteroid 2008 TC3, the first time an impacting asteroid was detected while still in space. With an approximate diameter of only four meters 2008 TC3 did not pose any significant impact threat and in fact, as expected, it exploded and broke apart when it entered Earth's atmosphere, but the opportunity to see how the overall process would work in "real time" helped enormously in seeing how the procedures we have now work and in stimulating improvements to those procedures in case a more serious threat presents itself in the future.
Richard Kowalski with the Mt. Lemmon Survey in Arizona discovered 2008 TC3 on October 6, 2008, with the discovery image being taken at 6:40 UT (11:40 P.M. local time October 5). The object was about 19th magnitude at the time, and images taken over the next hour were enough to show that it was likely located near Earth, and the IAU's Minor Planet Center shortly thereafter placed it on its Near-Earth Object Confirmation Page, making other observers around the world aware of its presence. Several astrometric observations, mostly from Australia, obtained over the next few hours were enough to provide a valid orbit, and the MPC announced the discovery at 14:59 UT. This first published orbit was already enough to indicate that 2008 TC3 would be impacting Earth – although not surviving passage through the atmosphere – at 2:46 UT October 7, i.e., twenty hours after its initial discovery, and that the impact point would be over northern Sudan.
Over the next eleven hours the MPC issued two dozen orbital updates as additional observations flowed in, primarily from observers in Europe. The last observations were obtained around 1:45 UT, by which time 2008 TC3 had brightened to 13th magnitude, however shortly thereafter it entered Earth's shadow and was lost from view.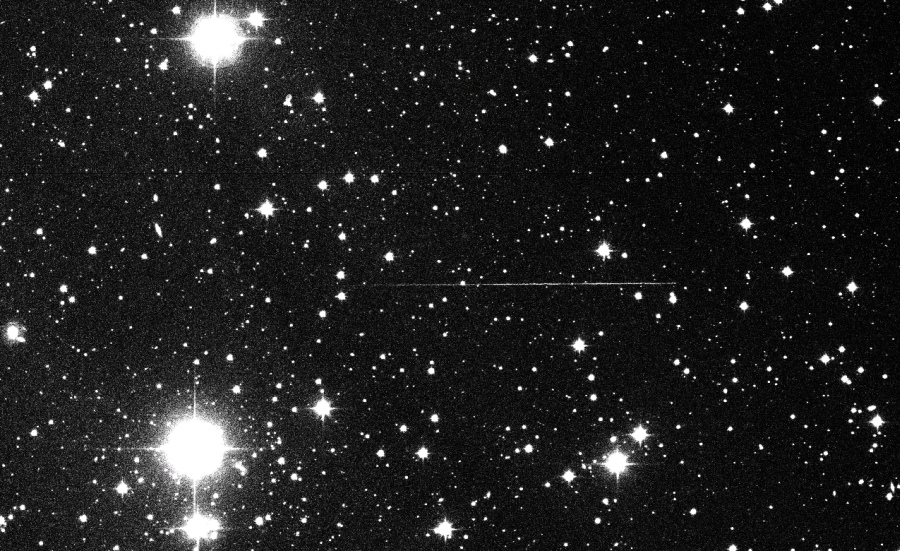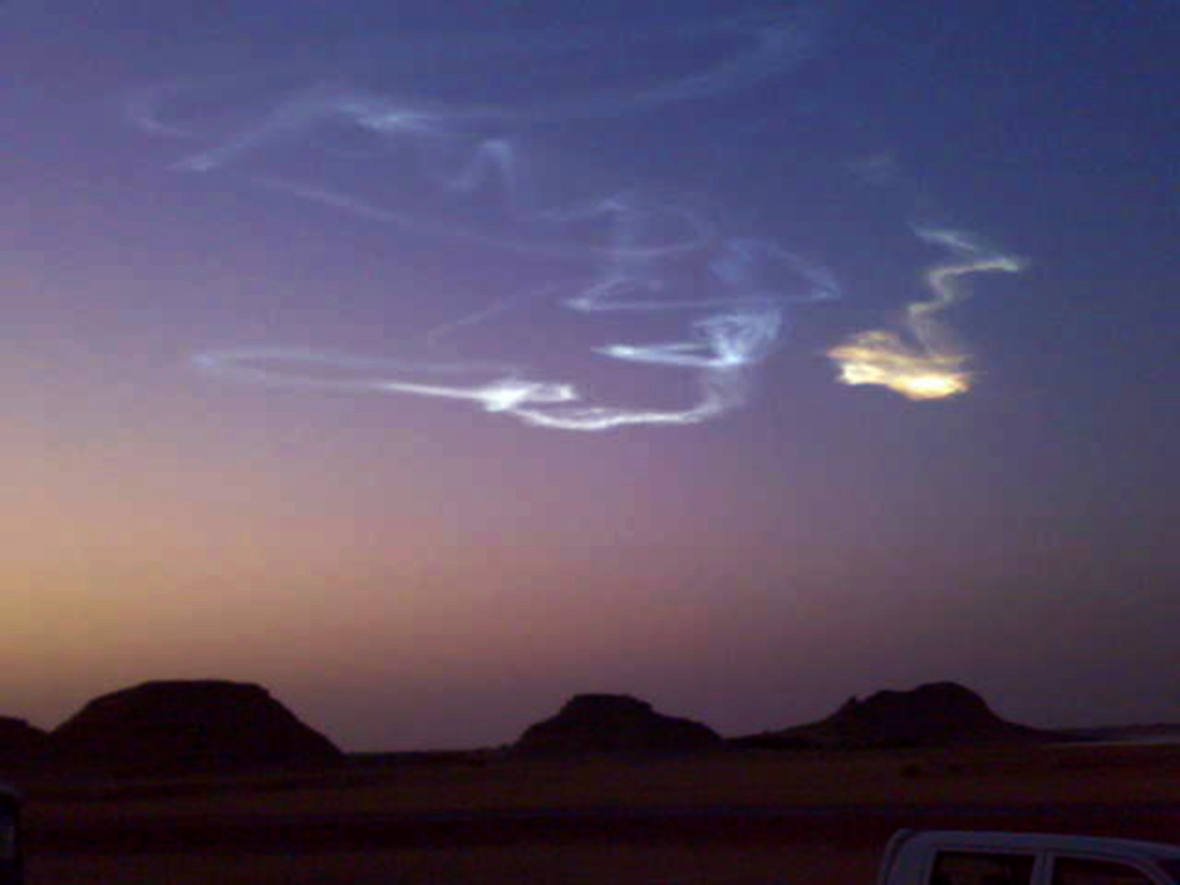 LEFT: Trailed image of 2008 TC3 entering the earth's shadow at 1:45 UT on October 7, 2008, taken by the La Sagra Sky Survey in Spain. Courtesy La Sagra Sky Survey. RIGHT: The persistent "train" left by the passage of 2008 TC3 through the atmosphere above northern Sudan, October 7, 2008. Courtesy Mohamed Elhassan Abdelatif Mahir/Muawia Shaddad/Peter Jenniskens.
As predicted, 2008 TC3 entered the atmosphere as a bright meteor over northern Sudan at 2:46 UT – 5:46 A.M. local time – and exploded approximately 37 km above the ground. Eyewitness accounts, some from hundreds of km away, report it as being a brilliant fireball, and it left a long-lasting train of debris and ionized air in the dawn sky. The European weather satellite Meteosat 8 in geostationary orbit over the region recorded it as a bright flash as it disintegrated.
There was hope that some meteorite fragments from the 2008 TC3 atmospheric impact might have reached the ground, and in early December a coordinated research effort led by Peter Jenniskens from the SETI Institute in California and Muawia Shaddad at the University of Khartoum, and involving several students and staff from that University, began scouring the barren Nubian Desert in search for them. Within three days the team had collected 15 fragments, and overall some 600 fragments with a total combined mass of 10.5 kg have now been collected. The meteorite fragments have collectively been named the Almahata Sitta meteorite, that name (which translates as "Station Six" in Arabic) referring to a train station in northern Sudan.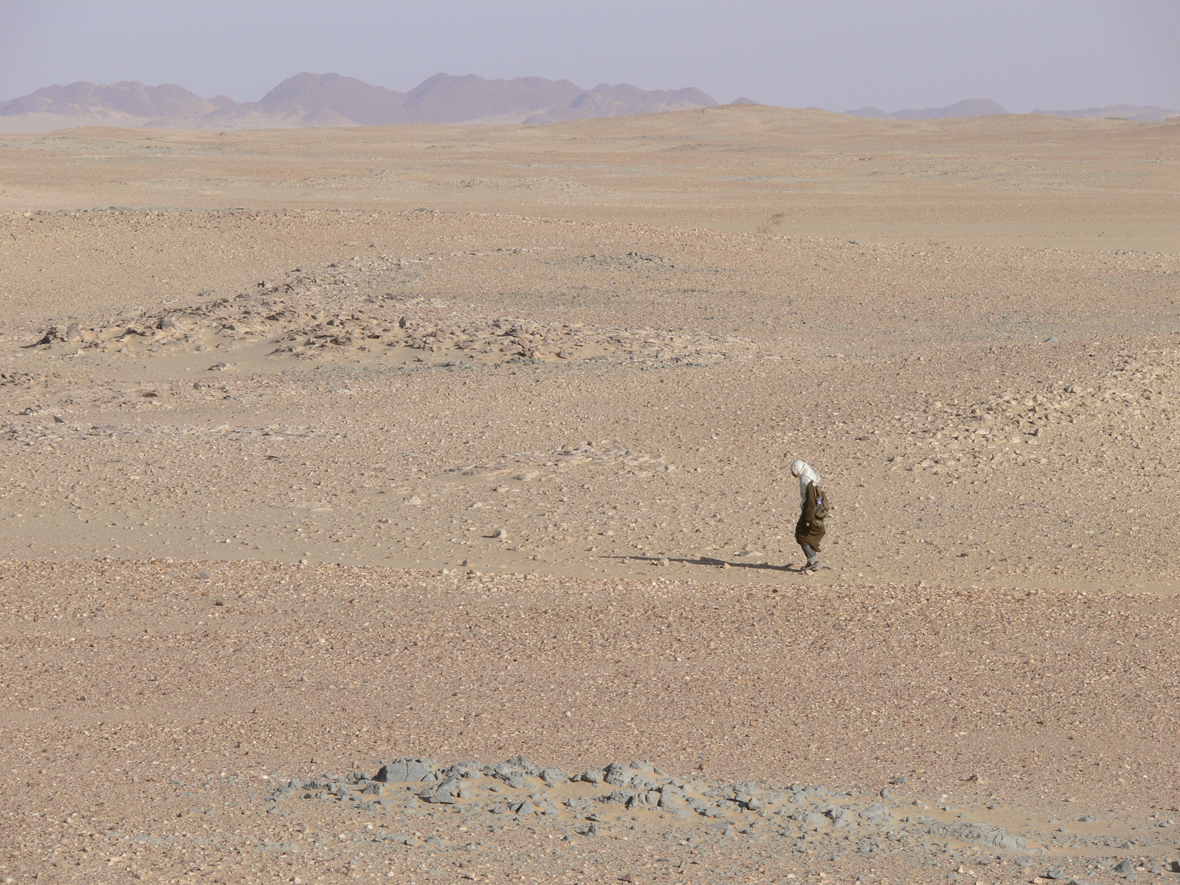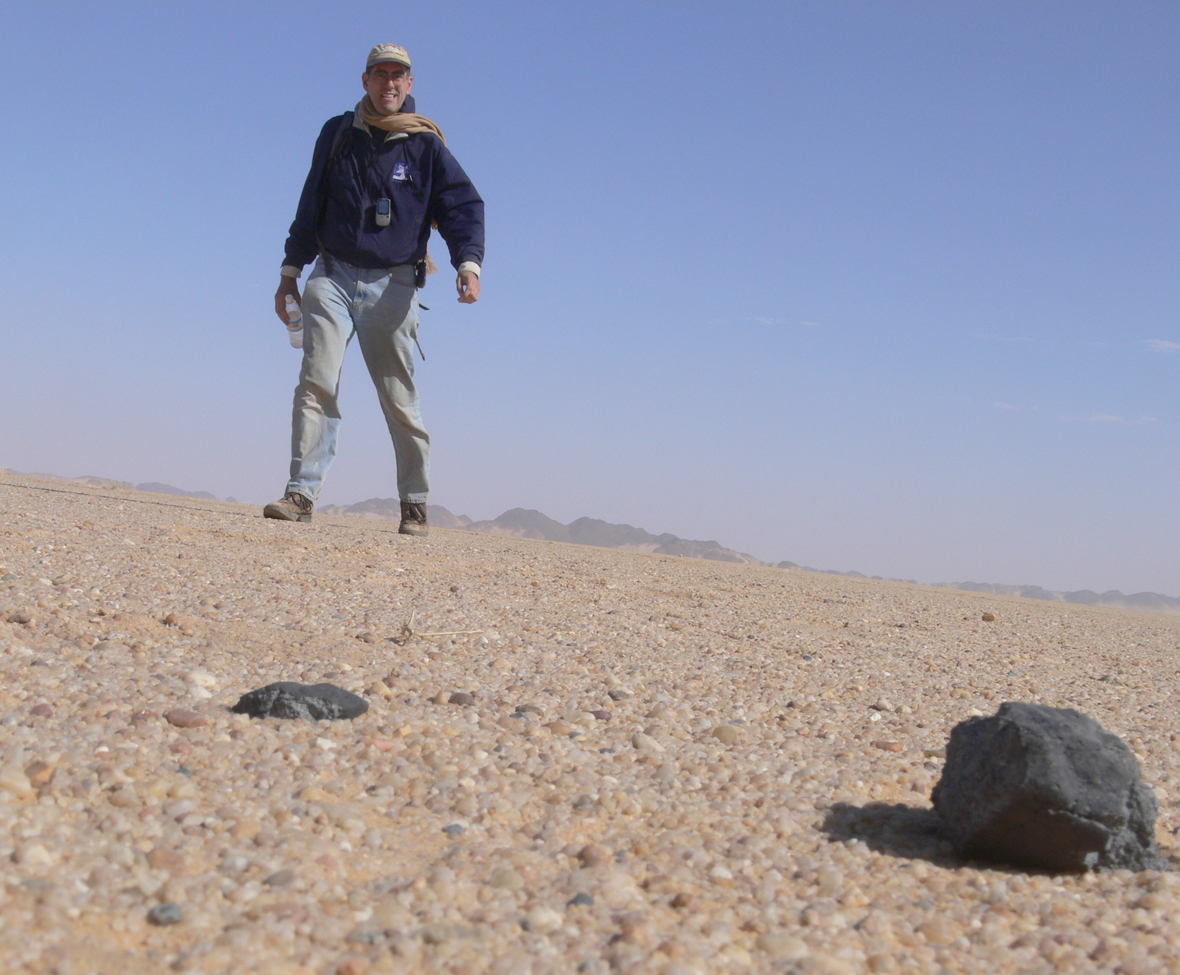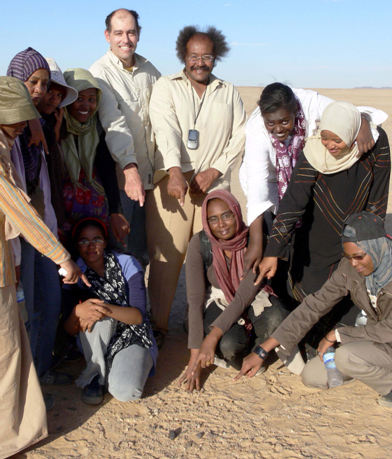 The search for meteorite fragments of 2008 TC3 in the Nubian Desert of northern Sudan. Left: A member of the search team scours the desert floor. Center: Peter Jenniskens of NASA's SETI Institute approaches a meteorite fragment. Right: Members of the search team point to a fragment. All images courtesy Muawia Shaddad/Peter Jenniskens.
Analysis of the Almahata Sitta fragments indicates that the overall meteorite is a rare achondritic stony type known as an "ureilite," which in general are relatively dark-colored and primitive. Tiny structures known as "nanodiamonds" which are produced by impacts and/or other shock events, have been found within the Almahatta Sitta fragments, suggesting that it came about as a result of a collision between two asteroids. Somewhat surprisingly, 19 different amino acids were detected within the fragments as well.